The LC Variable Phase Retarder
The Arcoptix Liquid crystal variable phase retarder (LCVR) is a transmissive element with an electrically tunable optical phase retardance. Optical retardations are often obtained with piezoelectric mirrors. However, this option is not ideal if robust and compact design is necessary. This product offer an interesting alternative especially when working with polarized light (which is often the case when working with lasers). The ARCoptix phase retarder is a thin transmissive element causing minimal losses and can be simply placed within the optical path of your system. The more, its optical retardation is electrically tunable with the LC driver of ARCoptix (but it can also be driven with simple laboratory alternative power supply). Alternatively, it can also be used as optical valve (for a narrow wavelength range) or as Polarization state controller (PSC). To summarize :
Electrically Tunable
Transmissive element
No moving parts
Compact and robust device
Weak absorption in VIS
Needs polarized light
Optical tunable valve (with extra polarizers)
Polarization state controller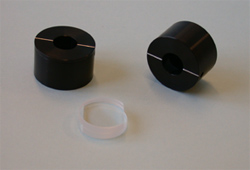 10mm aperture Scientific grade LC variable
The liquid crystal variable phase shifter can be compared to a variable waveplate. By addressing it with the right voltage, it is able to provide any phase shift from zero to several times the light wavelength. They can be used throughout the visible and the near infrared region (400nm to 1800nm) without losses higher than 15%. Thanks to the use of thick substrate (scientific grade) and a special liquid crystal bend were are capable to offer robust equipment with minimal wavefront distortion and power absorption.
Retarder type selection
According to your needs, you can select essentially between three categories of products:
Retarder Type
Specificities
Applications
Price
Industrial grade

Spacer (few microns) over the aperture
Large aperture
Thin substrates
Phase distortions (spherical)
Low beam deviation

Polarization management
Polarization vision

**
Scientific grade

Low phase distortions
No beam deviation
No spacers over the aperture
Aperture 10 mm
Thick substrates
Broadband AR coating

Interferometry
Metrology
Use in an imaging plane
Collimated laser beam

***
Custom

Larger apertures
High switching speeds
Large quantities/low price
Zero phase shift

Custom adapted cells for industrial applications
Specific scientific applications

* / ****
For further information contact ARCoptix: info@arcoptix.com