Polarization Rotation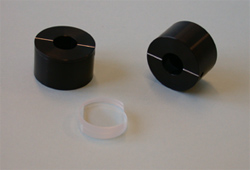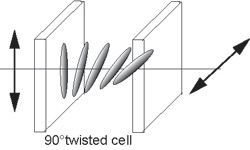 Polarization can be rotated eefectively and achromatically with Liquid Crystal twisted nematic Polarization rotator (TN cell). These TN cells are very useful when one wants to rotate the orientation of a linear Polarization by a fixed amount of typically 45° or 90°. When light is crossing LC twisted nematic cell its Polarization follows the rotation of the molecules (see figure below). The screen of any laptop computer is based on the same effect.
In optical systems, the Polarization is often rotated by quartz retardation plates (l/2 or l/4 plates). Quartz plate shows high quality and good transmission performances especially in the UV region. However, such plates present also some disadvantages: they are expensive, function only for a narrow spectral bandwidth and have a small incidence angle acceptance (field of view less than 2°). The liquid crystal nematic cells have therefore a large acceptance angle, function over a very large spectral range from VIS to NIR (if they are thick enough) and are less expensive. Optionally, by applying a voltage on the TN cell, the Polarization rotation can be "switched off". Also, when placing a 90° twisted cell between crossed polarizers, it can be used as a shutter.
l/2 plate for a very broadband range of wavelengths
Optionally rotation effect can be electrically switched off
In combination with two crossed polarizers it can be used as an optical shutter
Compatible with pulsed lasers like fs lasers.
Polarization Rotators Type
Specificities
Applications
Price
Industrial grade

Spacer (few microns) over the aperture
Large aperture (22 mm)
Thin substrates
Phase distortions (spherical)
Low beam deviation

Polarization manager
Polarization vision

**
Scientific grade

Low phase distortions
No beam deviation
No spacers over the aperture
Aperture 10 mm or 20 mm
Thick substrates
Broadband AR coating

Interferometry
Metrology
Use in an imaging plane
collimated laser beam

***
Custom

Larger apertures
High switching speeds
Large quantities/low price
Zero phase shift

Custom adapted cells for industrial applications
Specific scientific applications

* / ****
For more information, please download the product description PDF file in the tabs below or contact ARCoptix: info@arcoptix.com