ARCoptix fiber coupler FT-IR
The ARCoptix FT-IR spectrometer is an all-fibered alternative to our "Rocket" configurations. It features the same components as the FT-NIR or FT-MIR Rocket instruments, with the addition of an internally mounted optical source that enables to modulate light before coupling it to the output port of the device. This architecture is thus more robust to external perturbations such as background thermal emission, as such parasitic light would not go through the interferometer before reaching the detector. Our FTIR-FC is ideal for fibered applications such as reflection probes used for diffuse reflection measurements.
4-TE or Liquid-Nitrogen cooled MCT detectors available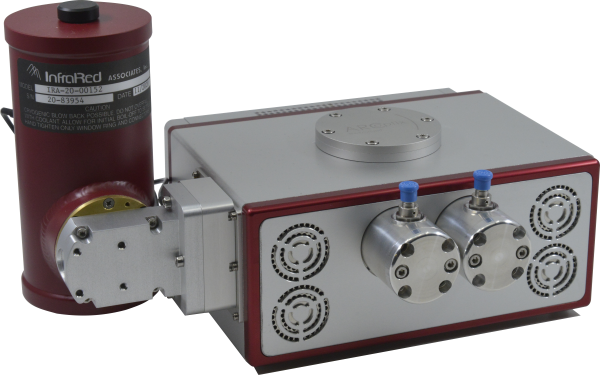 The Arcoptix FTIR-FC can be equipped with both 4-stage thermo-electrically (TE) cooled or liquid-nitrogen cooled MCT detectors. The TE-cooled detectors in the FTIR-FC are the most sensitive TE-cooled detectors availabe on the market and offer a reliable and maintenance-free operation. For ultimate sensitivity levels, the FTIR-FC can also be equipped with a liquid-nitrogen cooled detector. In the NIR, the FTIR-FC can also feature an extended InGaAs detector.
Characteristics
Ideal for operation with fibered probes
All-in-one solution: source, interferometer, detector and fiber-couplers
Most compact fiber-coupled FT-IR on the market
Available with TE-cooled or liquid-nitrogen cooled MCT detectors