ARCoptix FT-MIR ROCKET
Mid-infrared Fourier transform (FT-IR) spectrometer
The FT-MIR "Rocket" is a robust and small-footprint FT-IR spectrometer. The FTIR Rocket can be used for free-space measurement, or alternatively for fibered applications thanks to a removable fiber adapter (included). The device is particularly useful for IR measurements that need fiber coupling or any other special arrangements such as IR light source characterization. The ARCoptix FT-MIR "Rocket" offers high resolution and sensitivity thanks to its 4 stage thermoelectrically cooled MCT (Mercury-Cadmium-Telluride) detector. Its permanently aligned interferometer and its solid-state reference laser ensure the highest performance at every scan. The system displays excellent stability in both wavelength and intensity scales, which makes it an ideal tool for highly reproducible chemometric analysis. The FT-MIR " Rocket" is also used by many of our customers for characterization of infrared lasers, including pulses sources with repetion rate >10 kHz.
FT-IR Rocket with TE or LN2 cooling MCT detector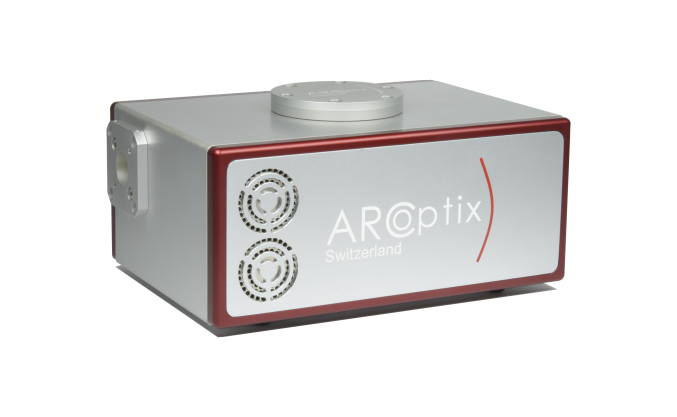 FT-MIR Rocket 2-12μm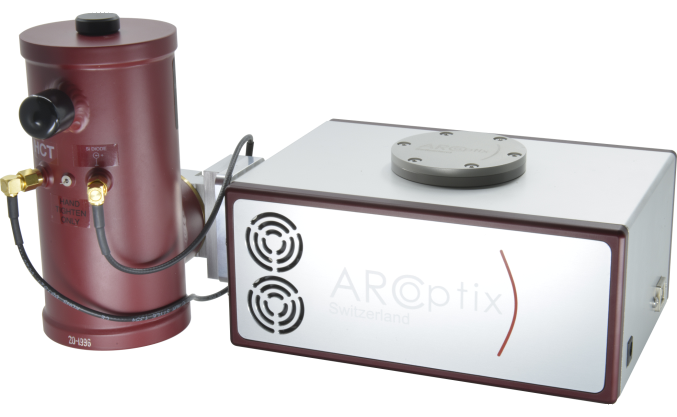 FT-MIR Rocket 2-16μm with LN2 cooled MCT detector
The FT-MIR Rocket can accommodate various detectors, each displaying specific characteristics. Besides pryoelectric detectors (DLATGS), we offer a selection of thermoelectrically cooled (TEC) MCT detectors that enable achieving unprecented performances while keeping the instrument extremely compact. The FT-MIR Rocket can also be mounted with a liquid nitrogen (LN2) cooled MCT detector for demanding applications that require high signal-to-noise ratio (SNR) or specific setups with very low optical throughput. In its standard configuration, the FT-MIR Rocket can reach a resolution of 2cm-1 while our high resolution modules (available on request) can deliver up to 0.5cm-1.
Example of application using the ARCoptix FT-MIR spectrometer
Characteristics
Compact (world Smallest FTIR)
High resolution 4cm-1 optionally up to 0.5 cm-1
Peltier cooled MCT detector available
4 spectral ranges: 5000-1660cm-1 (2-6μm), 6600-1200cm-1 (1.5 - 8.5μm), 5000-830 cm-1 (2-12μm) or 5000-650 cm-1 (2-16μm)
USB connectivity
Cost effective