The ARCspectro Thin Film Thickness Measurement System
Non-Contact characterization of thin films with a high performant FT-NIR spectrometer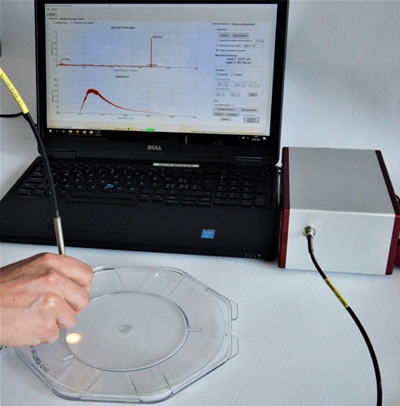 The combination of our high resolution NIR spectrometer and our dedicated Arcspectro Thin-Film software permits us to characterize film thicknesses and refractive indices of materials within minutes.
Thanks to our high performant FT-NIR spectrometer we can measure thick layers from 2 to 800 micrometers with no sample preparation or complex measurement procedure. The Arcspectro Thin-film software (mainly based on FT algorithms) is also capable to handle more complex multi-layer samples. Compared to competitor's products, which are mainly based on grating spectrometers, our system based on a NIR Fourier transform spectrometer (very different from grating spectrometers) has higher performances in SNR and resolution. The Arcspectro thin film is a versatile device that can also be used as a standard high-performance fibered NIR spectrometer for any other application in your lab!
Depending on your application spot size, probe or wavelength range must be adapted. We have almost for every situation a solution. Thanks to our variety of spectrometers (MIR, NIR or even a combination of VIS-NIR) and probes (fibered or direct illumination), we have an impressive toolbox to solve almost any problem.
PRICE of standard NIR system is only 18'900 EUR! (software and standard probe included)
Large spectral range (900nm to 2500nm) providing enhanced reliability.
Possibility to use MIR spectral range if requested.
Very high SNR (measure layers with small refractive index difference)
Fast measurements (about 10 seconds)
Versatile (NIR spectrometer can be used for other applications)
High resolution (permits to measure accurately thick layers up to 0.8mm)
Easy maintenance
Easy to use. No sample preparation. Simple procedure.
Customization of hardware and software on demand
Cost effective NIR range system.